Operation Push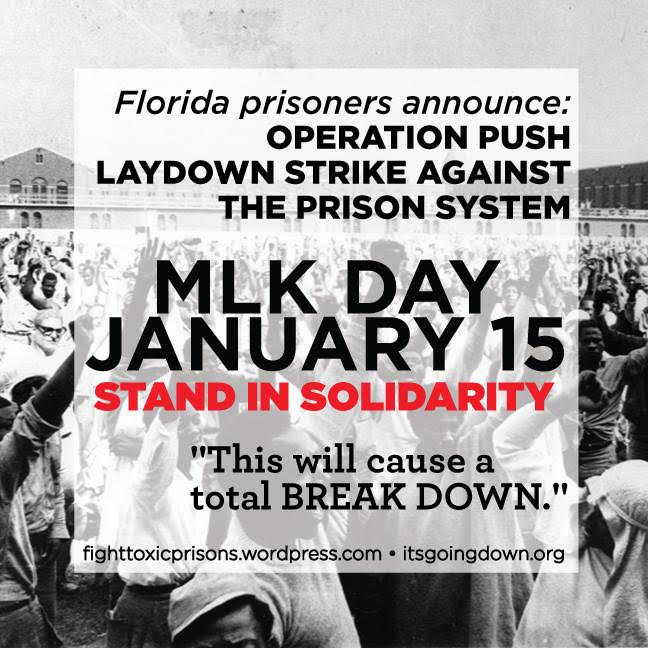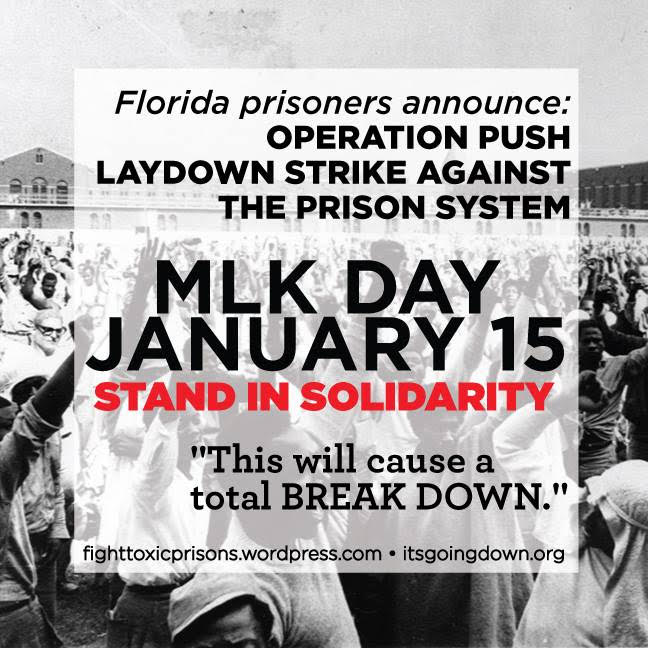 On January 15, people imprisoned across Florida will begin a "lay down" to cripple the state's system of prison slave labor and to challenge the brutal conditions they experience daily.
Thousands across the state will not go to work, go to chow, make purchases from the prison canteen, go to visits, use the phone system, or participate in any activity that feeds or is fed by the legalized extortion racket and slave labor system that is Florida state prison!
The best way folks can help from Asheville/far away:
1) *Spread the word! * The media rarely pays attention to prison struggles, so getting the word out is CRUCIAL; send to any contacts you have in the media and people you know, especially in Florida; share on Facebook, Twitter, Instagram (#OperationPush #layitdown #endprisonslavery)
*2) Attend a letter-writing night hosted by **Blue Ridge ABC on Sunday 1/21 (4-6pm @ Firestorm). *One week into the lay down we'll gather to send messages of solidarity to folks who are striking–they have asked specifically for this form of support! Check out BRABC's Facebook page for upcoming event details, updates, media coverage and more!
*3) Look out for updates from BRABC. *Prison rebels will face repression. Organizers will be posting about needs as they arise and BRABC will be sending out these updates as they occur.
*4) Get Informed! *Below, read an article from Florida prison revolutionary Kevin "Rashid" Johnson on Operation Push; and to listen to an interview with a lead organizer with the action on the outside.
Links:
YouCaring Donations to send 1000+ zines publicizing the strike into prisons
statewide
Gainesville IWOC
Fight Toxic Prisons
SPARC Network
Blue Ridge ABC