Asheville Prison Books holds a monthly volunteer orientation every third Sunday at 1:00PM at Firestorm Books. The volunteer orientation is an opportunity for new folks to learn who we are, what we do, and how to plug in. We will go over some info about the project, find out how YOU want to get involved, and package up some books to send out. If you're interested in getting involved, please come to our next orientation.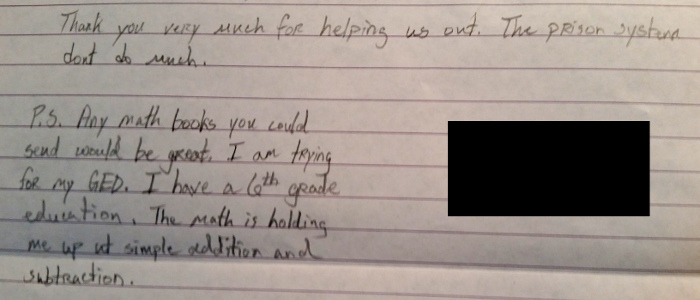 Donating Money
We're totally volunteer-run so all money is used to pay for either shipping books or printing literature. Email us if you want to donate or donate via PayPal.
Donating Books
Books need to be paperback and less than 2 inches thick. The books we need most are dictionaries and fiction written by people of color. If you'd like to donate books, email us to arrange a dropoff.
Answering Letters
We recieve letters directly from incarcerated people requesting books. Requests may be general or very specific. We need people to read the lettes, dig through our library to fill the requests, and then fill out invoices.
Packaging Books
Once requests are filled, we need people to package them up and address them for shipping.
Shelving Books
We need to keep our shelves neat to make it easier to fill requests. It can be hard to stay organized when we've got a lot of book donations coming in. We need people to shelve new books and straighten up the books that are already shelved periodically to make sure everything stays organized.