First-ever I/O Book Club Journal Released!
We wanted to provide the experience of a book club–the exchange of perspectives and dialogue–to those inside who otherwise might not have access to such an activity.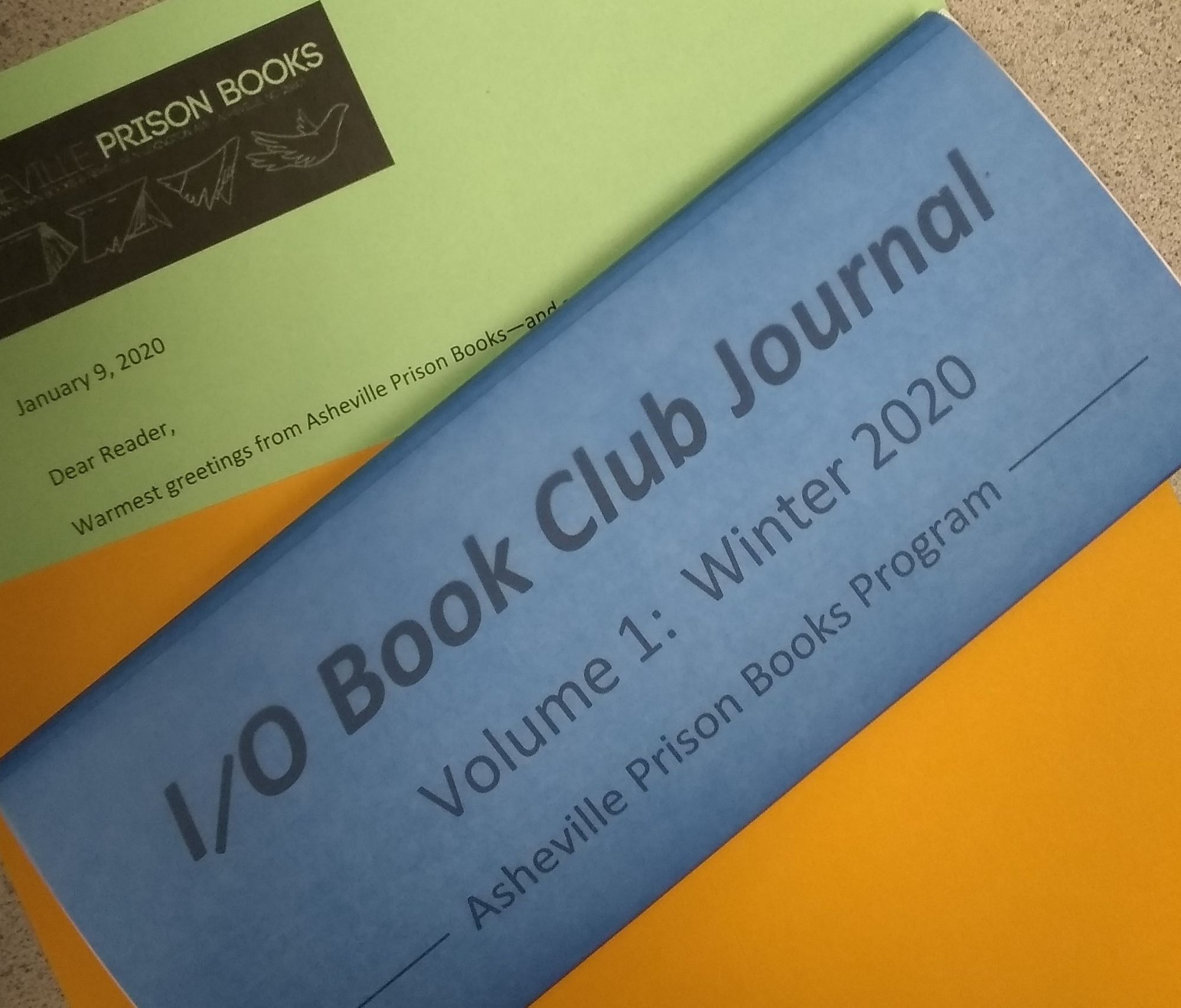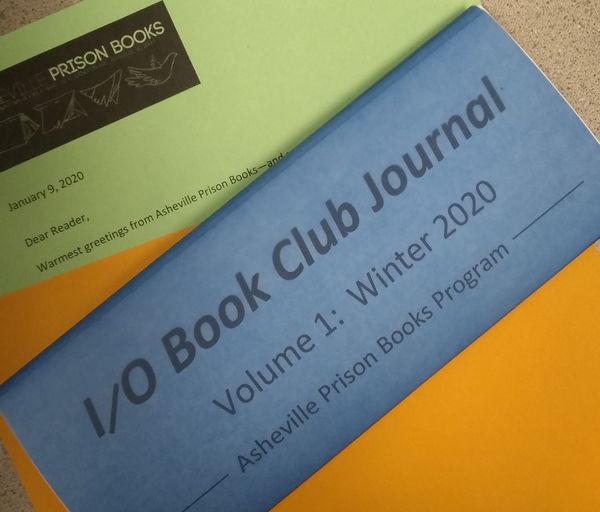 We're delighted to report that we just mailed out the first-ever edition of the Asheville Prison Books I/O Book Club Journal, which connects readers on both sides of the bars to great literature and to each other!
An idea takes shape
Early last year, our collective began discussing possibilities for facilitating dialogue between the people to whom we send books throughout the year. We wanted to provide the experience of a book club–the exchange of perspectives and dialogue–to those inside who otherwise might not have access to such an activity.  
While discussing literature is a common past-time behind bars, such conversations tend to happen between friends who pass a book around, or under the auspices of prison education programs. But in this era of extended lock-downs and long-term solitary confinement, such programming is unavailable for thousands of people trapped in their cells 20-24 hours a day (sometimes for months or even years at a time).
Additionally, we envisioned a group of individuals from different facilities and backgrounds who might not normally converse about a shared reading experience.
Reaching out and starting up
With this as a starting point, APB reached out to potential participants to see who wanted to join the club.  Then we chose and provided copies of a book, Fire on the Mountain by Terry Bisson, that we thought participants would find interesting and challenging, and would spark some good conversations.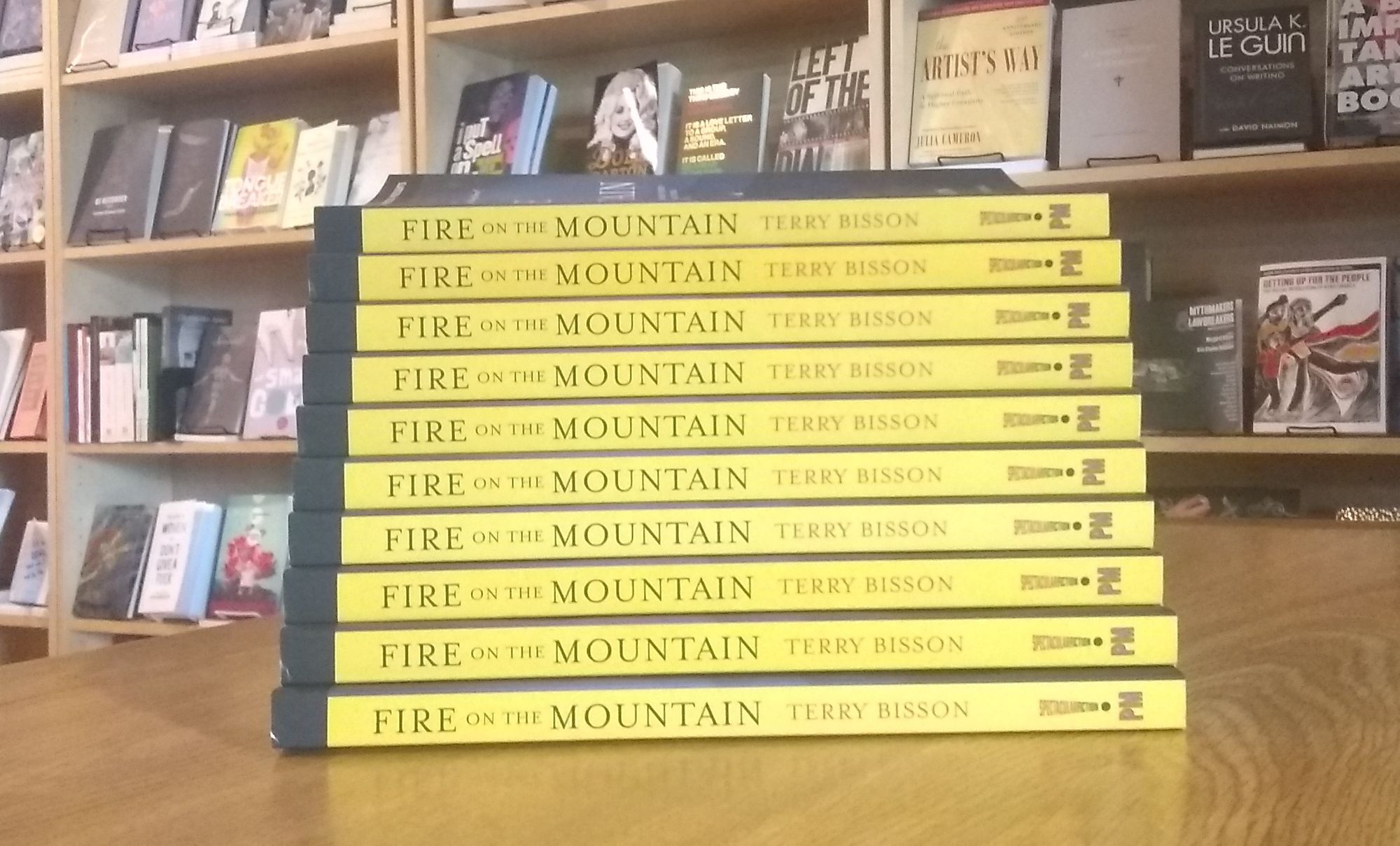 At the same time, members of our collective read the book and met in person to discuss it. We then solicited responses to the book (both from those inside and from members of our collective), for transcription and compilation into a short journal.  Those who wished to contribute to the journal submitted their comments and reflections; we were so excited, having no idea what to expect!  
What we got were reactions both humorous and heartfelt, personal and thought-provoking. For instance, this response from James:
"[This book] got me thinking about how the legacy of slavery, and racism had crippled this country. It also got me to think how far along in technology, medicine and science we would be today, if the cancer of slavery and racism didn't hold us back."
Adding a little flare
In addition to transcribing and printing written responses, our collective brought an artistic touch to the I/O Journal by using collage for the layout and design: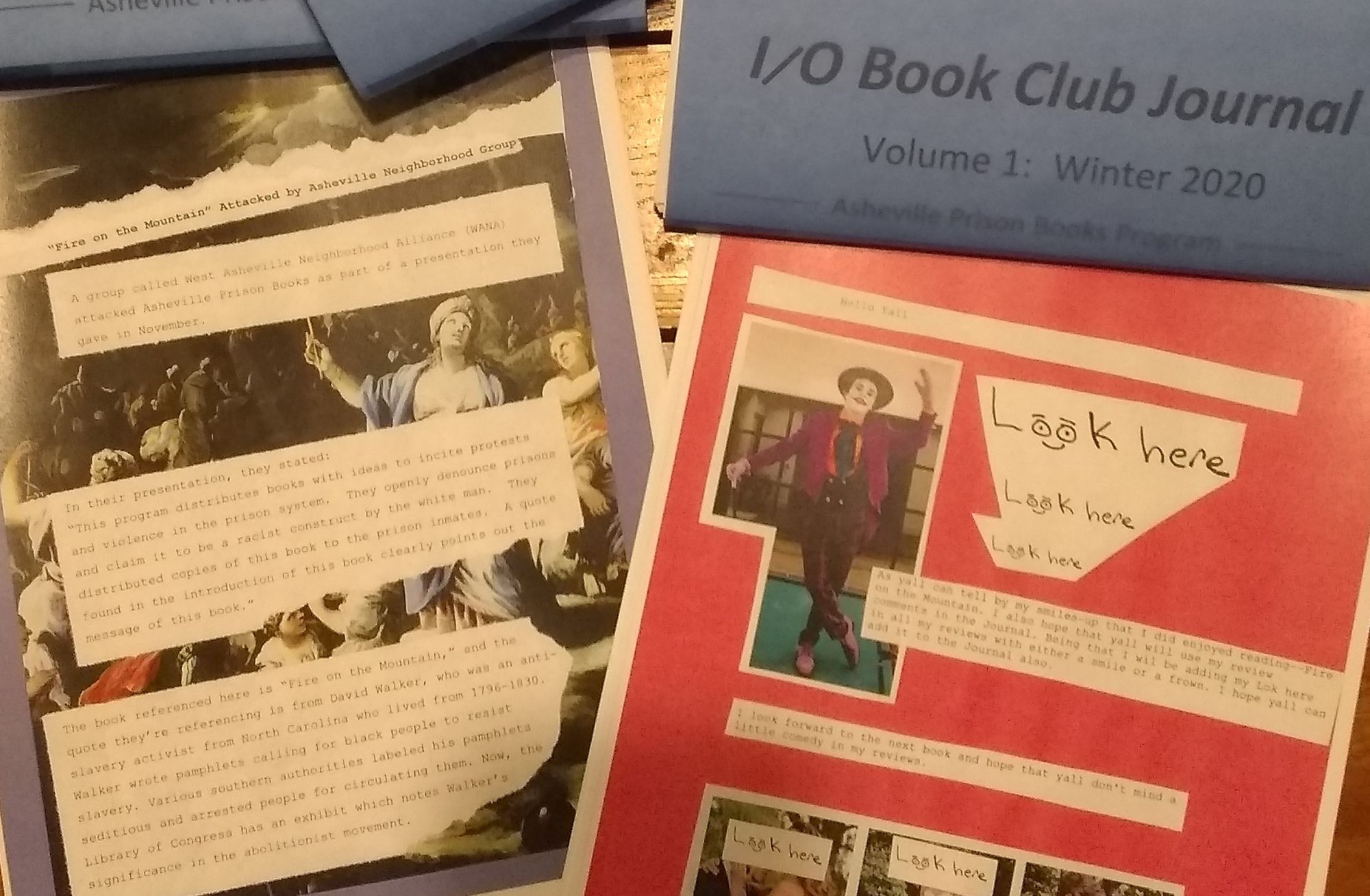 Completed copies of I/O are now making their way through the mail back to participants, and we hope they all reach their destinations (unfortunately it is all too common for mail-room staff to tamper with and outright destroy incoming prisoner mail).  We also the hope contributors are pleased with the dynamic representation of their words, and engaged by the writings of fellow participants.
More on the horizon
This was an exciting project for our collective to undertake, and we plan to do it again!  There are lots of ways to get involved with I/O, so we encourage folks to drop us a line at ashevilleprisonbooks@gmail.com if you'd like to jump in for the next round.
We'll be showcasing more artwork and responses from the journal in the following weeks, so be sure to check back here and on social media to see more of I/O!
UPDATE: You can download a PDF of the first issue of the journal here: https://avlpb.org:1312/io/APB_IO_Book_Club_Journal_01_Winter_2020.pdf
---
** Special thanks to Firestorm Books & Coffee for helping source copies of Fire on the Mountain for this book club – we could not have made this project happen without you! **